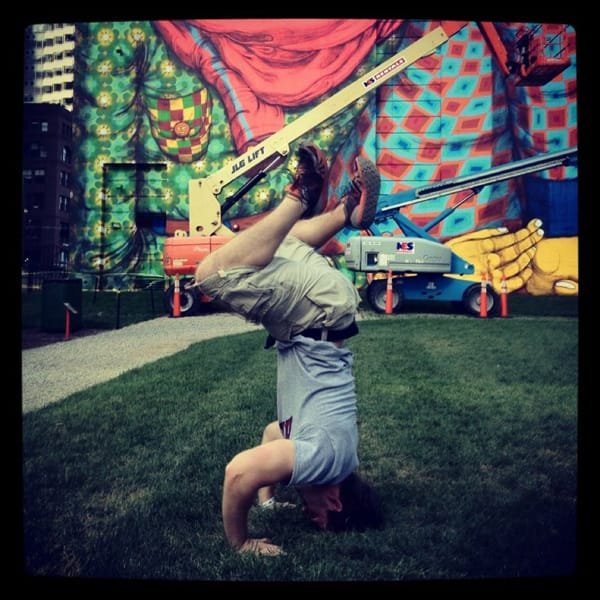 Hey everyone. This is a completely random update. I had planned on doing this at the 15th of the month – sort of the midway point for the meditation challenge, but I just got the urge to write tonight. I'm actually sitting here in my towel, just getting out of the shower, and thinking about how thankful I am to be where I'm at in my life right now.
I wrote a post today at jcdfitness called Every. Damn. Day.  <– click that to read after you finish this one.
Fact is, I spent 16 days in Boston, then traveled back to Nashville, and am finally settled in. It was a fun trip, but I'm so happy to be in my normal routine again.
In saying that, I'm a bit sad because of the people I left behind there. I spent some quality time with my friends and I'll never forget it. They even threw a birthday party for me – people even drove in from New Jersey, and NYC. I feel pretty special.
I'll be back many more times in the near future to hang and work.
The image above if of me playing around in the grass of Dewey Square in Boston. Apparently this painting caused quite a bit of controversy to some who called it a terrorist painting. My response to all these folks (read the comments here) with a narrow mindset is to think fast and speak very slowly for you never know who's reading…
It amazes me the things some people will say over social media. I have been known to say some pretty crazy stuff over Twitter, but this stuff is just appalling.
On With The Meditation…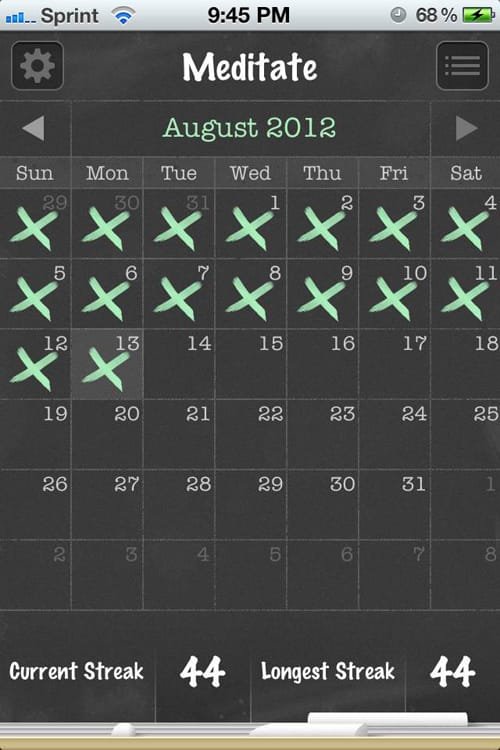 As you can see, I' managed to get 44 days straight of meditation.
I will admit that I'm struggling to stick with my triggers that I mentioned in this post. However, I'm learning some cool stuff in the process. Even though I'm not meditating after my first cup of joe, I am still getting it done. Every. Damn. Day.
However, if I knock it out in the morning, my day seems to run more smoothly, and I'm less affected by stress. I'm just calmer, altogether, so it seems. It might be voodoo nonsense, but it's what I can gather thus far.
In saying that, I'm nearing the end of the preparation process for my fitness project I'm releasing in a matter of days, so the meditation, and mindfulness is providing a lot of mental benefit.
Another thing I'm struggling with is going past 8 minutes. My mind is racing more than ever before. But I won't stop – I'm gonna stick with this because my life, my physique, my entire being is a product of diligent practice (as noted in the Every. Damn. Day. article above).
So this is my open invitation to you – spill it! How have you been doing with this meditation challenge? Anything you're learning along this journey? Let's start a conversation in the comments section.